Stump Pass Beach State Park
…Like a Painting by Salvador Dali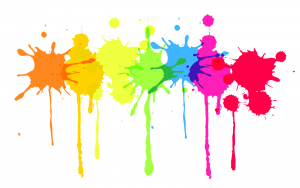 Stump Pass Beach State Park – an amazing place in Englewood, Florida. Expect endless wildlife from Turtles, Egrets, and Ospreys, to Dolphins, Frigate Birds, and Manatees.
Also, be prepared to look back in time. This spot looks pretty much like Florida did hundred, two hundred or three hundred years ago.
The white sand of the beach stands in perfect contrast to the emerald green water of the Gulf of Mexico while the white skeletons of Australian Pine trees are sticking out of the sand. They are white like snow – bleached by the endless shining Florida sun. They look like fingers pointing into the endless, dark blue sky. The scenery somehow appears to be surreal; it looks as if Salvador Dali has made arrangements for a new painting. Is he still around?
Australian Pines in Florida?
Those stumps are the remnants of Australian Pine trees, an invasive plant that grows and spreads like crazy in Florida's climate. Native to Australia, they made it onto the "most unwanted" plants list. Although no pine trees at all, they are flowering trees, they were once introduced to Florida to help stabilize the soil. They do that very well, but they edit some more "benefits" to it: they are creating a dense shade, and they are emitting a herbicide that is killing every plant that has the guts to grow within their drip line.
The park rangers killed all those trees to protect the native plants, and what you see is the result of that action. All their skeletons are now bleaching in the sun until they are completely gone, and Florida's natural vegetation is reigning again.
A Bird Sanctuary
A 1.3-mile long hiking trail is cutting through a thick Mangrove/Sea Grape "jungle." At the south end lies a little lagoon. It is a protected area for nesting seabirds and visitors should respect the rights of these precious creatures. The parent birds are working hard. During the breeding season, all birds are busy catching fish and feeding their hungry young ones from dusk to dawn. Once the hard work is done, and the new generation of birds is on its own the parents can relax in the sun. They look exhausted, tired, and now they are dozing in the hot fall sun. Next year it will start all over again. Life ain't easy for birds.
Stump Pass  – a great Place to be
Stump Pass, how that stream of water is called that is connecting Lemon Bay with the Gulf, is a favorite hang-out spot for the local boaters. On public holidays it can be just crazy out there. Hundreds of boats with happy people of all ages are anchoring along the shoreline. Everybody is in the water and dogs are running around playing with each other. The boaters are soaking in the warm water of the bay while enjoying a nice refreshing drink of whatever is in their cup. We don't know what's in their glasses, but we don't care. They are happy campers. Therefore, there must be something "happy" in their cups, too.
It is tricky but worth it
The first section of the trail is a boardwalk, however, the predominant part of the trail consist of sand and shells. When walking on those shells, you sometimes feel like being a fakir. Therefore, if your feet are sensitive bring your flip flops with you. In May, June and July the sand is blazing. Yes, it is so damn hot. You might try to jump from shadow to shadow, but in some areas, there is hardly any. Now it feels like you are dancing on a hot cooking plate.
The mangroves and sea grapes do provide a nice, shady canopy, but there are stretches of sand baking in the sun with no shadow at all. When you hit those spots, they will set your feet on fire.
However, there is another option to avoid that dance if you forgot to bring your shoes: you can walk through the shallow water along the Gulf side – all the way to Stump Pass. That feels a lot better, and we always prefer to take that route.
Limited Service
Bring food, bring drinks; the next restaurant is a mile away! There is a Coke vending machine, but because that thing has been sitting outside without any protection for years, it tends to be moody. It may take your money but refuses to spit out your cold drink. There are restrooms and picnic tables, a gazebo and outdoor showers. You can bring your kayaks, canoes or small fishing boats and launch them in the park (Lemon Bay side only).
Parking can be tricky
There are probably 100 parking lots available, and in peak season you have to "fight" for a spot. But the park rangers are pretty good. They try to help you find a place without causing bloodshed. The early bird catches the worm, therefore, don't be too late. Especially on public holidays, when everybody wants to catch some rays, the Rangers cannot help you. And don't forget: $3 is the entrance fee and they enforce it.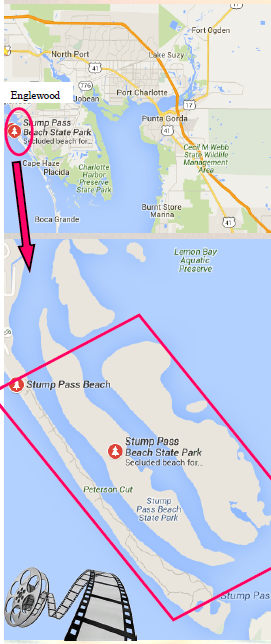 The Location of Stump Pass Beach State Park is at the south end of Manasota Key. The 245-acre nature preserve consists of 3 islands which are divided by two channels. The channel between Manasota Key and Don Pedro Island is called Stump Pass.

Only Manasota Key, where the main section of the park is located (including the ranger station),  can be reached by car. If you want to go to the other islands you need the help of a small boat. Be prepared that Stump Pass has a pretty strong current, depending on the state of the tide. On certain days it is not advisable to go through the pass with a small boat.