Country Club Living in Englewood Florida
Oyster Creek is a  stream of water which runs through parts of Englewood. Oyster Creek Golf and Country Club is a lively and active Community where this creek cuts through. The residents enjoy low HOA fees, maintenance free living, 24/7 manned gate, excellent amenities, beautiful homes for a reasonable price, pet friendliness, and an excellent location. The community is within walking/golf cart distance to many stores, banks, and restaurants.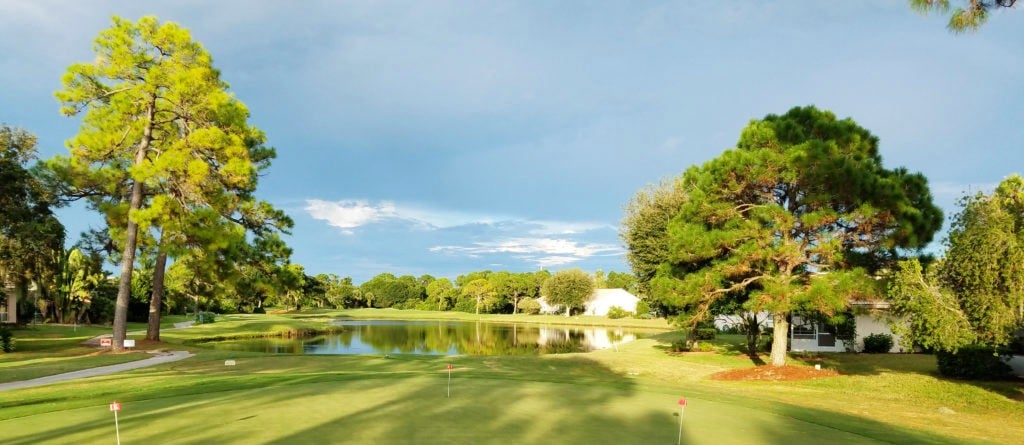 Why we like Oyster Creek & Country Club
There are not many gated communities in Englewood, and there are just a few Golf Course Communities. Oyster Creek Golf and Country Club is one of them. Twenty years ago, we decided to build a vacation home in Florida. We had been all over the place from the Keys to Miami, Naples, Fort Myers, Cape Coral, and Sarasota and decided to stay in Englewood.
We loved the Keys – notably Marathon – but we felt it was too remote. 27 years ago we saw many empty lots waiting for a buyer, although, that has changed in the meantime. Back then, Houses were scattered all over the place, some of them at least 200 yards apart from each other. Rotonda West didn't appeal to us then, with its canals and only a few scattered homes.
We came to Venice and Sarasota and liked what we saw. Eventually, we made Englewood our home. A German realtor had convinced us to have a close look at one community, which was "Oyster Creek Golf & Country Club." So we went, saw it and loved it.
Our list was long
We wanted a community where the atmosphere is vibrant and lively with friendly neighbors.  A neighborhood where you can walk, walk at night, walk whenever you want to walk. We were looking for a community where you could take part in certain activities.  We certainly did not want to live in a place where the association goes overboard. In some of the neighborhoods, the associations are controlling your life, which was not for us. Oyster Creek is perfect for part-time residents as well.
If you are looking for a gated community in Englewood, you do not have too many choices. Boca Royal Golf & Country Club is a mature community with still new construction going on. Nice but pricey. Stillwater has newer homes and villas, but we didn't like the location too much. Oyster Creek Golf & Country Club seemed to be perfect.
Dear reader, now you may think that living in the gated Oyster Creek golf community is too expensive, right?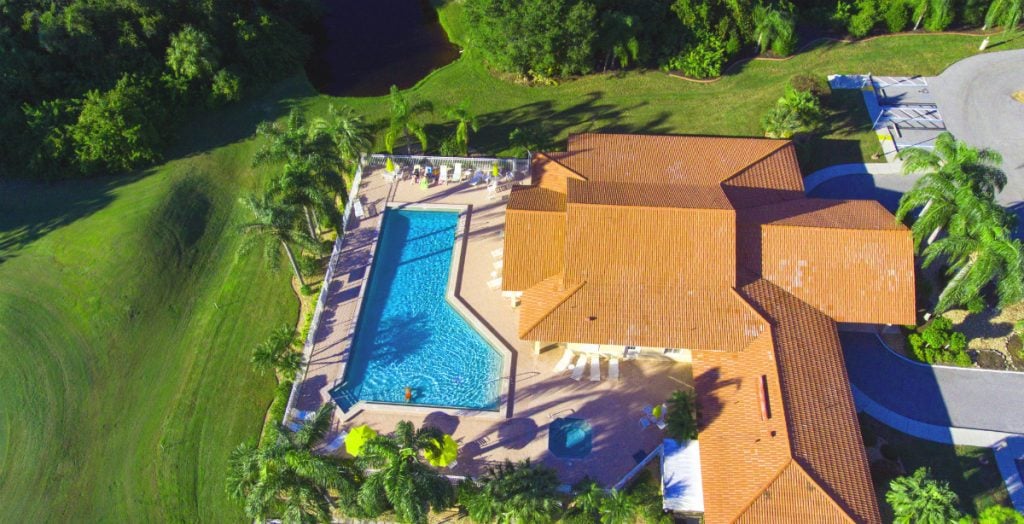 Here are some community facts:
Is a monthly fee of $185 for 24/7 manned- gate, ground maintenance and use of community center with tennis, spa and heated/cooled pool too high?
Okay, so far we have covered only the basics, and if you are still interested, we can dig a little deeper. Englewood's finest golf course community consists of roughly 450 single family homes and villas. Many of them are facing the 18-hole  executive golf course, designed by Ted McAnlis.
Oyster Creek Golf Course information:
The mid-size golf course provides a challenge for golfers of all skill levels. Six par fours and twelve par threes create a fair test. Bermuda Grass fairways, paved cart trails, putting and chipping green, practice bunker and water hazards provide fun for golfers of all age and handicaps.
The golf course is a separate entity, and the homeowners have nothing to do with it. Sweet to know! The red tile roofs are sticking out of a beautiful, lush, sub-tropical landscaping. A big part of the community consists of lakes, wetlands and nature preserves. There is plenty of wildlife in the neighborhood. Be prepared to have gators, bobcats, and ospreys as your neighbors. Opossum families may cross your path, and once in a while, a turtle needs your help crossing the street. Gators – yes – there are gators in those ponds and lakes. We are in Florida!  In Oyster Creek, you live in the middle of the town, and you live in perfect harmony with nature at the same time.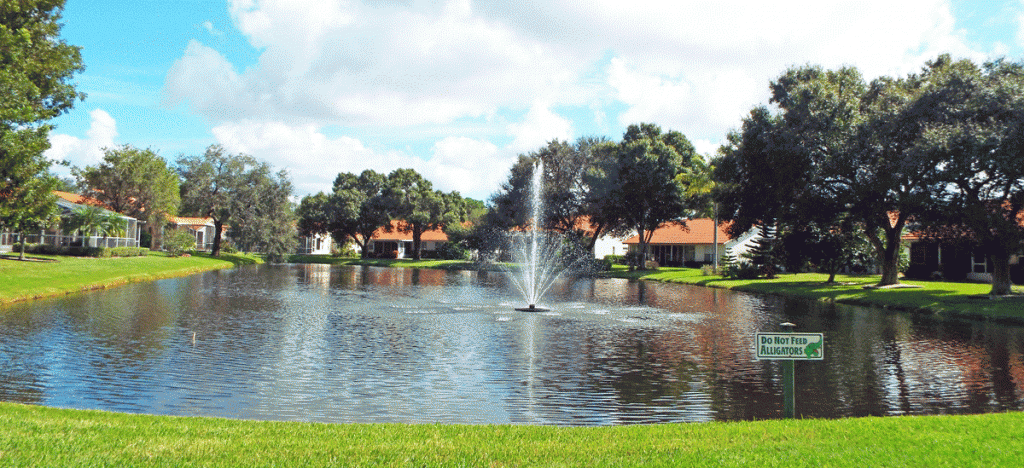 The home buyer can choose between golf course view, lake view, nature preserve view or garden view. Quite a few homes are lined up along Oyster Creek.
By the way, the location of the community can't be any better. While the sunny beaches are only a 5-minute drive away, shops and restaurants are much closer. The 24/7 Super-Walmart is even accessible by golf cart or bicycle. When you live in the first section, you can also walk. How many communities can claim that?
More facts about the location: I-75 is about 15 miles away. Port Charlotte and Venice, both are just a 10-mile drive away. Sarasota is only a 30-40 minutes drive away; Fort Myers is an hour away. All three major International Airports (Tampa, Sarasota, and Fort Myers) are within a 90-minute radius. Punta Gorda Airport offers many choices for national destinations like Pennsylvania, Iowa, Ohio, Missouri and North Carolina
The Community Layout
When driving through the 24/7 manned gated community, the first section (or phase one) is not on the golf course. Here are smaller homes, most of them are two bedroom homes with a 2-car garage, and most of them have no pool. They have either lake or garden/nature preserve view. The houses in phase I are from the early 90's.
Crossing the bridge over the Oyster Creek, you are entering Phase II and III. Most of the houses are newer and larger with three bedrooms or at least a den. Most of the homes have preserve, lake or golf course views. Many homes come with a pool; some have a 3-car garage. However, if you are hunting for a 4 or 5 bedroom home with 3,000 + sq ft, Oyster Creek Golf and Country Club is not the right address. Most homes are in the midsize range; a size of 1,600 to 2,000 sqft is common, very few are over 2,400 sqft.
Oyster Creek Community Center
Right by the bridge is the clubhouse with the huge community pool and lighted tennis courts. The pro shop with snack bar is the building right next to the community center. The clubhouse has a lot to offer: a sparkling heated pool with spa and a well-equipped fitness center. A library with TV and a kitchen is also available. Pool billiard, table tennis, and many social activities, including group travel to worldwide destinations, are part of the "community deal."
By the way, Oyster Creek Golf & Country Club is "moderately" deed restricted. Park as many cars as you can fit on your driveway, but not on the street. Noncommercial pick-up trucks can be parked outside. With approval, you can park a camper outside for a few days. Boats are not allowed on the driveway. Does that make sense? We think so.
Other rules: Can you paint your home pink? Nope! All homes have the same color scheme, which needs HOA approval when re-painting. Do you want to re-arrange your yard? You can do that but ask the landscaping committee first. They want to keep the monthly fees low. Therefore, they want to check that you do not plant too many obstacles for the lawn guys.
Can you have a dog? Yes. What about two dogs? You can have two or even more dogs. Any size? No size or weight limit. Any breed? Even Pit bulls? Yes, any kind, but they need to behave. Yes, they do! Can you have cats and dogs? If that is your wish, you can have both. Can you have a horse? Only in your bedroom.
Summary:
Compared to other communities in the area, the 24 h gated, full maintenance Oyster Creek Golf and Country Club is a deal. The community offers many of the same amenities that higher priced communities provide to their homeowners. Even if you are not an avid golfer, you'll love what this community on Florida's West-Coast provides. To find out about the Englewood area, you can also visit our blog.
Do you want us to find your perfect home in Oyster Creek Golf & Country Club or the greater Englewood area? Send us an email or give us a call at 941-244-8341. It never hurts to get more information – but maybe you just found your future home for you and your dog. There are not too many homes for sale in Oyster Creek, and there is a reason for that! People love it.