Flood insurance was never an issue – until it became one
Flood Insurance is the elephant in the room. All of a sudden everybody was scared to buy a home close by the water in Florida. Why? Well, many homes are near water because Florida is all about water, right? So, whether it is directly on the beach, on a canal, river or a natural or man made pond or lake, the fact is that most homes in the Sunshine State are near water. And even if you avoid all those bodies of water – when it's raining cats and dogs during a tropical storm you can easily end up with a waterfront property – at least for a while. 
September 2107: Updated news: Senate voted to extend the flood insurance for another three month until December 30,2017. Read more.
Most People love to live near the water!
Furthermore, a lot of people do desire to live near water. A blue sky, sunshine and emerald green water – those are the ingredient of the Florida Lifestyle, right.? From a historical point of view, people always wanted to live along the coastline or near water for many plausible reasons. Those reasons have changed a little in the course of time.  Their transportation needs  are different now, they don't use a canoe to go to work. They don't need to be close to the water because the water contains their source of food – fish. There is a grocery store around the corner. Why do they want to live there?  They want to live there because it feels right, looks good when the water is sparkling, smells good… or whatever. 
Nature can be unpredictable!
For many thousand years people knew that a home close to the water has a downside, too. Nature (and especially water) is always somewhat unpredictable. The Gulf of Mexico can be nice and calm for a long time, but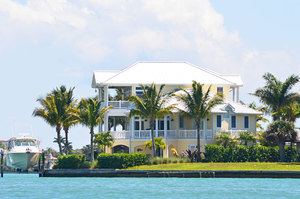 when a strong storm rolls in, even the sea of dazzling turquoise changes the color into an ugly grey and acts like a fury. The same can happen with a river or a lake, and a tropical storm can dump so much rain within hours that you can take a boat-ride in your backyard. This will most likely happen when the storm water system gets clogged up by debris or when it simply cannot handle the amount of a torrential rain because of bad design.
So, what can you do? You can stay away from water, build your home on stilts or insure your home against loss. The first thing means that you have to avoid a high risk flood zone and look out for a moderate or low-risk area. Okay, sounds like an option!
The National Flood Insurance Program (NFIP) is the only insurance available for coastal and flood-prone inland areas. The standard home insurance does not cover flood at all. What is flood? "Flood" is defined as "rise of a water table"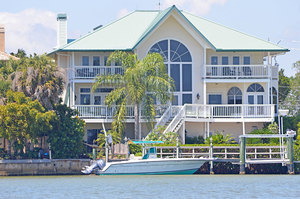 Only rain damage or damage trough a burst pipe is covered, because that is not considered "Flood". For more information, please contact your Insurance Agent. If you need a good local Insurance Agent, we can certainly help. Ask us about reputable companies we have been working with for a long time. 
So far, the National Flood Insurance bought reinsurance, something not unusual because all casualty insurers do that, and sold it at a lower, subsidized rate to the homeowners in flood prone areas. In 2014, the government suddenly changed the game plan; all homes in a high-risk area lost the NFIP subsidy and got struck by lightning. The premiums went through the roof, and many proud homeowners with beautiful water views had to swallow a bitter pill …or bail out.
From now on, while holding an open house, the question of vital importance was not: How many bedrooms? Nope, the question was: Is this home in a flood zone and how much is the flood insurance?
Suddenly the dark clouds on the horizon started disappearing. Sweet! Eventually, the government noticed that this needed to be fixed. The Homeowner Flood Insurance Affordability Act has been signed into law. This act helps make flood insurance premiums fair, affordable and predictable for families in Florida and other areas prone to flooding.
What's the deal?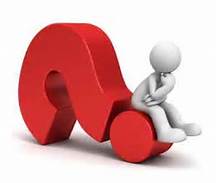 • It repeals FEMA's authority to raise flood insurance rates at the time of property sale.
• Returns to allowing buyers to assume the seller's current rates so the rate stays/transfers with the property, not the owner.
• It repeals FEMA's authority to raise flood insurance rates at the time of property sale.
• Returns to allowing buyers to assume the seller's current rates so the rate stays/transfers with the property, not the owner.
• It restores grand fathering so properties built and maintained to code in one flood zone are not rated in a higher-cost zone, simply because   FEMA corrects the mis-rating on a later flood map.
• Caps premium increases at 18% annually for new properties or 25% for the older ones.
• Refunds premiums paid by property owners in excess of rates under these amendments.
So, what do these changes mean to homeowners and potential home buyers? In short, it makes buying and owning property in flood areas more affordable and predictable. What a relief.
Flood insurance is mandatory, if you live in a Flood zone and have a mortgage from a federally regulated or insured lender. After buying flood insurance, there's typically a 30-day waiting period from date of purchase before the policy goes into effect. 
Click here to see if your home in Sarasota County is in a flood zone. This is the new flood map.
Stay informed: Knowing when and where map changes are occurring prepares you to make important decisions. Contact your local Insurance Agent to learn more about flood insurance and your options, or visit Sarasota County.