"The Villages" or the "West Villages?"
It sounds identical, but it is far away from being the same.  "The Villages" is a huge master-planned community near Orlando, while the "West Villages" is a thoughtfully planned, vibrant community in Sarasota County. Located between the Gulf Coast and Myakka River, this fabulous Venice location is close to some of the best Gulf Coast beaches that Florida has to offer, as well as championship golf, fine dining, recreation, and rich culture. 
Seven reputable Home Builders are offering high-quality homes in the West Villages. Mattamy Homes, Lennar, D.R. Horton, Neal Communities, Divosta/Pulte, Sam Rogers, and M/I Homes are the names that stand behind exceptional craftsmanship. They all have their different styles. Therefore, home buyers have a lot to think about when they want to purchase a retail home or build a new home. Not everybody wants to go through the hassle that comes with updating a dated home. They rather skip the remodel and buy new. At the West Villages, they are in the right place. There are plenty of new home options in the Villages.  
Nature Preservation is Key
The communities in the nine Villages offer its residents vast areas of preserve lands with new homes and modern-day amenities. You can expect an abundant lifestyle – from a sunset over the Gulf of Mexico to kayaking on the Myakka River, golfing, shopping, dining, or exercising on the interconnected trails and bike paths.  
The size of the communities varies considerably. There are huge communities with two community centers and almost 2,000 homes, and there are also cozy, intimate communities with less than 200 homes but nicely equipped community centers. If you want to live in America's 4th fast-selling community, one spot may be waiting for you. 
The West Villages offer new homes in a range from the mid $ 200's to $700,000+. The sky is wide open, and the homebuyer decides where the limit is. Each of the villages is unique. Some communities have strictly single-family homes, while others offer the full spectrum of different dwellings, like single-family homes, villas, coach homes, and condominiums.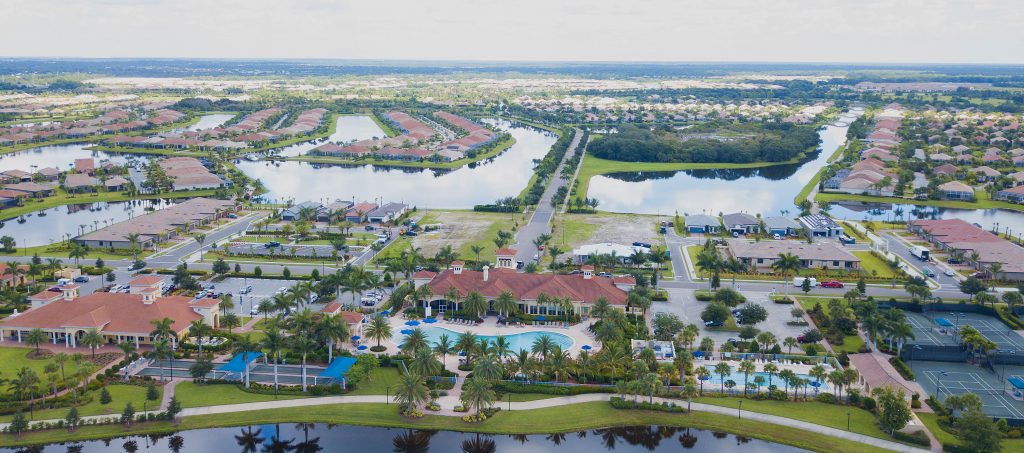 A Community built on little Islands
Islandwalk is a Divosta/Pulte project. Resort-style living awaits you at IslandWalk. Miles of walkways and boardwalks are connecting little peninsulas with single-family homes arranged in small groups. This setup guarantees that most of the homes have a full or partial water view.   
Without any doubt, Islandwalk has world-class amenities, with two large community centers and ballroom. An Activities Director organizes special events and group outings all year long. Whatever you can imagine, you'll find it in the Islandwalk community. 
Explore the collection of innovative, consumer-inspired home designs featuring flexible living spaces. You have a choice between single-family homes and attached villas. And the best is yet to come: Islandwalk is a maintenance-free community, no grass cutting or tree trimming. 
Prices are starting in the mid $ 200's for new homes. But there are retail homes for sale as well. So, you have two choices: if you want to skip remodeling and buy new you can do that. But because Islandwalk is one of the first communities of the West Villages, there is always a good chance that there are reasonably priced retail homes on the market. 

 Search for Homes in IslandWalk
Gran Paradiso – Big and Stunning
The Gran Paradiso is another stunning enclave of elegant homes. The homes in this gated community are inspired by Mediterranean architecture. Gran Paradiso offers its residents a high-quality pedestrian environment. A safe and attractive non-vehicular transportation network is designed for pedestrians, bicyclists, in-line skaters, and users of small electric vehicles. This feature will be of greater importance in the future. 
An abundance of open environmental space, consisting of parks, wetlands, and habitat areas, is also the main focal point of this community. But wait until you see the opulent clubhouse campus with fitness center and spa, resort-style pool with cabanas, sports courts, saunas, and more.  
Lennar or Sam Rogers Homes – The Buyer has Options
Gran Paradiso features an extensive collection of different multi- and single-family homes, ranging from 1,417 to over 3,867 square feet of living space. Lennar and Sam Rogers are known for building high-quality homes. While Lennar builds more "affordable" homes, Sam Rogers tends to be on the higher end of the spectrum. However, Lennar is without any question the elephant in the room. Lennar is the leading builder of new quality homes in the most desirable locations across the nation. Sam Rogers is a premier luxury builder in Southwest Florida. Homes (Villas) in Gran Paradiso are starting in the mid $ 200's.  

Search for Homes in Gran Paradiso
The Preserve – more than just another Gated Community
The Preserve is a gated community in the West Villages with Single-Family Homes and Twin Villas in a park-like setting. Many homes are having scenic Preserve or water views. Compared to Islandwalk and Gran Paradiso, this community is a cozy place. Right now, it consists of about 200 lots. Once the second phase is completed, this community will have around 400 residences. However, the smaller size doesn't necessarily mean that this community lacks all the amenities more prominent communities have. A clubhouse with a fitness center, resort-style community pool, bocce, and pickle ball courts is part of the entertainment options for the residents. Homes are starting in the mid $ 200's. 

 Search For Homes in The Preserve
The New Town Center
On the other side of the US-41 construction of the new mixed-use Town Center has started. Grocery stores, other retailers, offices, and medical facilities will be available for the West Village Residence. Publix and other stores are already operating.
Sarasota National – a Golf Course Community in the West Villages
If you want to skip remodeling and buy new, this is another option. Sarasota National is one of the two Golf Course communities in the West Villages. About half of Sarasota National, approximately 800 homes, is facing the Golf Club's 18-hole championship course. Surrounded by wetlands and preserves, the course is as beautiful as it is challenging, and the course is also Audubon certified. What does that mean? "The Audubon Cooperative Sanctuary Program for Golf is an award-winning education and certification program that helps golf courses protect our environment and preserve the natural heritage of the game of golf." However, only the homes located on the Golf Course need to pay the membership fee for the golf club.  
The other half of the homes are facing lakes, beautiful nature preserves, and wetlands. Residents of this section can still become members of the golf club; but, most homeowners of the nature preserve view section prefer to play and pay daily instead of shelling out money for the annual fee. 
An Impressive Clubhouse
The 13,000 square-foot main clubhouse is offering a full-service dining room with an adjacent bar and lounge, library, coffee room, meeting room, and a multipurpose room. A State-of-the-art fitness center with spa treatment rooms, cardio-fitness area, group fitness rooms, and men's and women's locker rooms are also located in the community center. A Resort pool with lap lanes, a spa and beach entry, a poolside tiki bar, an 8,000-square-foot event lawn, expansive patios, tennis courts, bocce, pickle ball, and a separate dog park are also part of the deal. 
Golf Club members enjoy their separate club building, which is next to the clubhouse. A pro shop provides necessities for the future Tiger Woods.  
Sarasota National has homes for every taste and need, with carefree Carriage and Coach Homes and spacious single-family Executive, Manor, and Patio Homes. Smaller homes are starting in the mid $200,000 range. 

Search For Homes in Sarasota National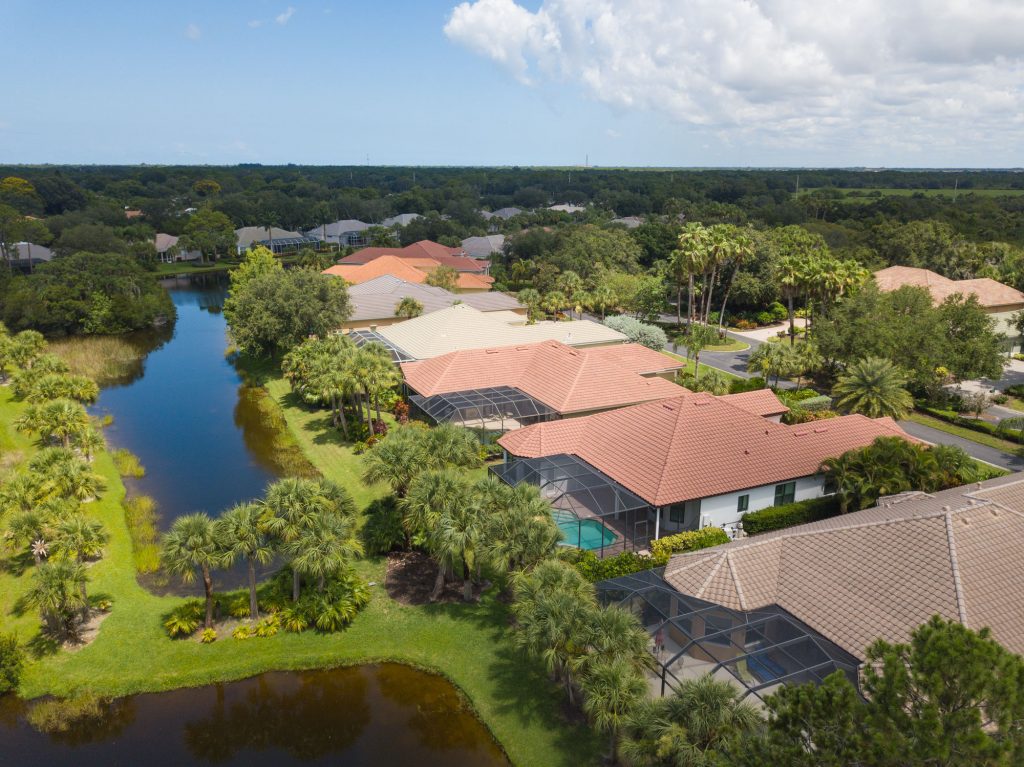 Boca Royal –  the other Golf Course Community in the West Villages
Boca Royale Golf & Country Club, the only other Golf Course community, is nestled amid pristine lakes and nature preserves. Residents of the gated 1,000-acre community enjoy a full line of fun and fitness amenities, including an 18-hole par 72 golf course, a 6-court, lighted Har-Tru clay tennis facility, and a resort-style community pool. The community also offers two restaurants with fine or casual dining. 
Boca Royal has an older section, where the home buyer can purchase a well-established retail home. But there is also a new section where the home buyer can opt-in for a move-in ready new home or build his own dream home according to his specifications. New homes are starting in the mid $ 200's while medium-size 3-bedroom Single-Family homes are available for $350,000+. 

 Search For Homes in Boca Royal
Grand Palm – as close as it can get to Venice
Grand Palm is a beautiful, amenity-rich, and nature-focused community. Residents have access to a fitness pool for swimming laps or water aerobics. Grand Palm has miles of walking and bicycle trails with bike racks. Cast a rod into the Adventure Lake from the private Lookout Point Island or launch your kayak for a little tour, enjoy a tennis match, play basketball, volleyball, or bocce ball. Your furry friend will like Big Park and the Playful Paws dog park while your kids will enjoy the splash park and the Adventure Playground.  
Grand Palm is beautiful a Neal community south of Venice on Center Road. Many parts of Grand Palm are gated. Single-family homes and paired villas are starting in the mid $ 200's.     

 Search For Homes in Grand Palms      
The Renaissance – across from the new Town Center
The Renaissance is another gated community with single-family homes and paired villas in the West Villages. A wealth of fun-filled amenities, including a beautiful new clubhouse with a café and fitness center, is available to the homeowners. Community pools, bocce, tennis, and pickle ball courts are also part of the facilities.  
A full-time activities director is around to organize all kinds of social events. For those who need a little more elbow room, there are miles of biking and hiking trails. A dog park for the furry friend is also a part of the package. 
Mattamy Homes' Renaissance at West Villages offers thoughtfully designed homes with a wide variety of floor plans for every taste. Open living spaces and perfectly designed kitchen are a focal point of each home. Prices are starting in the mid $ 200's. 

  Search For Homes in The Renaissance
The Oasis –  truly an Oasis in the West Villages
Oasis is the last piece in the puzzle. A community of only 156 stunning homes, ranging from 2,100 to more than 4,000 square feet, with three-car garages, tile roofs, outdoor living, and open floor plans for easy living. The homes come with the latest features, and all nest on 60- and 70-ft wide home sites. Nature preserves, ponds, and miles of biking/hiking trails are part of the community. The Oasis is the closest community to the Myakka River, which is only a short walk away.
The community has a Clubhouse with room for events, yoga, meetings, and more, and the Resort-style pool with deep sun-bathing shelf is a feature everybody loves. Homes are starting in the mid $ 350's range. M/I Homes is the home builder. M/I Homes built over 100,000 new homes across 16 markets for over 40 years.

 Search For Homes in The Oasis